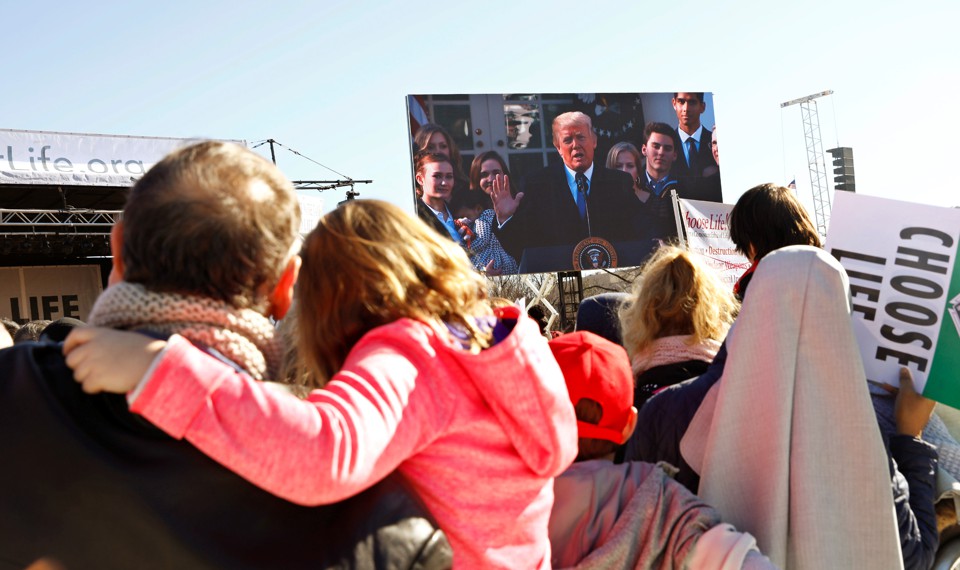 Bernie Diaz, January 23, 2018
"I have found David son of Jesse, a man after my own heart; he will do everything I want him to do"
What do you make of a leader who on the one hand struggles to live a life of fairly consistent moral and ethical virtue- a man with more than a few character issues and who on the other hand leads or governs as if driven by a heart for what God wants?
If you are a Jew and/or a Christian, you thank God for a king like David, the second and greatest monarch of Israel's biblical history and if you're a modern-day Christian, you thank God for….wait for it….  Donald J. Trump?
Yes, I know I have spilled much electronic ink on this blog, trying to 'bring thoughts captive to Christ' on this professed believer, our President,  who has recently (and periodically) made fairly vulgar, racially insensitive remarks about groups of people or nations, who spends way too much time tweeting his thoughts and who has been accused yet again of having committed adultery – of all things with a porn-movie star, who he allegedly paid off to remain quiet, to say nothing of his well-published and admitted sexual sin over a good chunk of his adult life.
This is no easy task for a disciple of Christ and as a pastor to do, who believes that character counts – particularly for a leader, and one sitting in the Oval Office. However, I thank God for common grace to bless those who are in authority over us, whether they truly know God personally and salvifically or not.
A big question is how could God call David a "man after His own heart" when David committed such terrible sins, including adultery and conspiracy to murder (Bathsheba's husband Uriah) as well as his dysfunction in the  parenting of his children (e.g. Absalom).
One can learn much of David's character from the book of Psalms where he opens up his heart for all to examine. David's life was a portrait of success and failure, and the biblical record highlights the fact that David was far from perfect.
But what did make David a cut above the rest was that his heart was pointed toward God. He had a deep desire to follow God's will and do "everything" Yahweh wanted him to do.
He was a man after God's own heart because he governed and led well- even when he fell and would then seek repentance after his many failings.
Whereas we cannot judge the heart of President Trump and his spiritual condition today, nor could we favorably compare his life and leadership to David's, we can be grateful that he, on the brink of the first anniversary of his inauguration, is governing much like a man of God with God's people in mind.
A Champion of Life
Just this week the President of these still United States, issued a proclamation declaring Jan. 22nd, which is the anniversary of the 1973 U.S. Supreme Court decision of Roe vs. Wade, "National Sanctity of Human Life Day."
In an official video statement released before over 800,000 pro-lifers at the annual March for Life rally last Friday, Trump explained in his proclamation that the observance is meant to "affirm the truth that all life is sacred, that every person has inherent dignity and worth, and that no class of people should ever be discarded as 'non-human.
Reverence for every human life, one of the values for which our Founding Fathers fought, defines the character of our Nation. Today, it moves us to promote the health of pregnant mothers and their unborn children," read the proclamation, echoed in Trump's video remarks.
Speaking via satellite from the White House Rose Garden, Trump stated that he was "honored" and "proud" to be the first commander-in-chief to address the March for Life.
"Today, tens of thousands of families, students, and patriots, and really just great citizens, gather here in our Nation's Capital," said Trump, his speech broadcast on a large screen before the attendees at the National Mall.
"You come from many backgrounds, many places, but you all come for one beautiful cause: to build a society where life is celebrated, protected, and cherished. The March for Life is a movement born out of love.
You love your families, you love your neighbors, you love our nation, and you love every child, born and unborn, because you believe that every life is sacred, that every child is a precious gift from God."
Many evangelical preachers could not have declared the biblically based pro-life position any better, would they be courageous enough to do so, even from the comfy confines of their pulpits.
This President has been more willing to spend his political as well as rhetorical capital on the issue of life, than any other since Ronald Regan in the 1980's. Due largely to Trump's influence, The House of Representatives just passed the Born-Alive Abortion Survivors Protection Act, which would require healthcare workers to provide care to babies who are born alive after an abortion attempt.
All the Republican representatives voted in favor of it, and almost all the Democrats opposed it, which if one were to ponder for a moment, would seriously and graphically reveal the evil that lurks within the hearts of the pro-abortion movement.
Only six Democrats voted for this bill to protect babies that would 'survive' an abortion attempt on their lives. That means that 183 Democrats voted against it, in essence voting that babies that somehow survive the grotesque and murderous act of abortion, be allowed to die slowly and painfully on the spot, or be extinguished without a threat of liability to the abortionist, similar to the legalization of late-term or partial-birth abortion.
Do you have chills yet? May we pray for the souls of these elected officials among others, such as Planned Parenthood President Cecile Richards, who are the caretakers of a multi-billion dollar industry that snuffs out approximately one million American pre-born lives per year.
Interestingly enough, one person with a unique perspective on the aftermath of Roe v. Wade and its 45th anniversary is lawyer Sarah Weddington, now 72, of Austin Texas. When she was just 26, she argued on behalf of "Jane Roe" (later revealed to be Norma McCorvey, who later would become a pro-life advocate) in the famous suit.
In a TIME magazine interview, while admitting that Trump is one of the strongest, 'anti-abortion' politicians she had ever know, Weddington was perplexed that the battle for the basic human right for life is still being fought today: "When I started the case, the research in 1969, if anybody had said, 'You will still be talking about this in 45 years,' I would not have believed that. And so what I'm most amazed at is how long the issue has still been at the center of a lot of political conversations.." We have President Trump in large part to thank for that reality today.
A Champion of Liberty
Kudos again to our somewhat 'Davidic' like President, whose administration last week announced in a little-known but pleasantly surprising declaration, that the federal Department of Health and Human Services must make exemptions for those with moral and religious convictions of conscience, to opt out of mandates providing abortion and/or 'gender reassignment' services or surgeries.
This President if nothing else, is politically incorrect and has remained faithful thus far to his campaign promises to uphold religious liberty for people of faith, which is a critical one for Christians holding to a biblical worldview.
Why is that critical? Because the religious freedom of conscience is what ensures Christians a voice in the marketplace of ideas, social legislation and at the workplace, to preach the gospel of Jesus Christ and to live by the constitutionally guaranteed right we have always had in this country to "exercise" our religion.
In conclusion, we know that Israel's David was a man after God's own heart because he not only demonstrated his faith in his reign as King, but because he was also committed to following the Lord. Yes, his faith was tested on a grand scale and he failed at times. But after his sin he sought and received the Lord's forgiveness.
In the final analysis, as a man after God's own heart, David is a role model for all of us and as I pray for this nation's President, that he would not only confess to God his own personal sin, but ask him from a heart of repentance, for grace in forgiveness and salvation as David did in Psalm 51.
"Have mercy on me, O God, according to your steadfast love; according to your abundant mercy blot out my transgressions. Wash me thoroughly from my iniquity, and cleanse me from my sin!" (Psa. 51:1–2).
Mr. President, I pray that will be your prayer, so that you would be a child of God if you're not yet one already, as well as one who governs like one (1 Tim. 2:1-6).