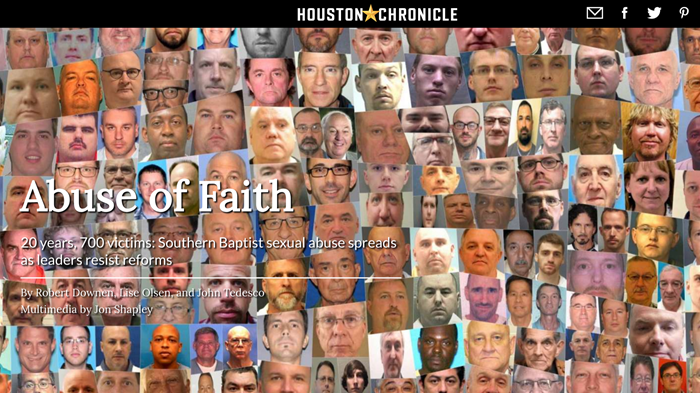 Bernie Diaz, February 12, 2019
Sexual abuse as we have discovered in the midst of the #MeToo era, can no longer be reduced to gawking at high-profile cases from afar in Hollywood and Wall St. to the political centers of our country.
Abuse perpetrated by religious leaders of every brand and denomination have at last been uncovered and are coming to light by the day. For evangelical Christians, who thought that abuse among and committed by clergy was largely confined to Roman Catholic circles, in the aftermath of the still burgeoning yet decades old priestly scandal (which has now uncovered hundreds of nuns as victims), think again.
The nation's largest Protestant denomination, the Southern Baptist Convention (of which the church I serve as a pastor is in fellowship with), is now under scrutiny due to a thorough, investigative Houston Chronicle report entitled, "Abuse of Faith: 20 Years, 700 Victims: Southern Baptist Sexual Abuse Spreads as Leaders Resist Reforms."
Carrying allegations against nearly 400 church leaders in 20 states (a majority of whom were convicted or took plea deals), it's believed to be the biggest report on sexual abuse among Southern Baptists in the movement's history according to other news outlets. The report confronts the longstanding defense that the organization can only do so much to monitor abuse since affiliated congregations operate autonomously.
In the first of a three-part series that investigated the records of Southern Baptist abusers who were convicted or took plea deals for their crimes since 1998, 90 remain in prison and 100 are registered as sex offenders.
Even worse according to the first article, "at least 35 church pastors, employees and volunteers who exhibited predatory behavior were still able to find jobs at churches during the past two decades," the reporters found. "In some cases, church leaders apparently failed to alert law enforcement about complaints or to warn other congregations about allegations of misconduct."    
Appropriately and thankfully, Southern Baptist leaders and pastors have spoken in response to the news report even more frankly about the problem of abuse and reiterated their commitment to more rigorous, research-driven efforts launched last year to address the issue.
SBC president J. D. Greear, called the voices in the article "a warning sent from God, calling the church to repent." Indeed, the SBC has been given an opportunity in the midst of this discovery of such personal tragedy and suffering, to minister the gospel of grace, mercy, redemption and restoration to the victims of abuse, as well as the responsibility to apply ecclesiastical justice and the ministry of repentance, forgiveness, redemption and reconciliation to the perpetrators of these crimes.
Lest we think sexual abuse is a modern phenomenon, a mere cursory trip down biblical lane from the abuse of Old Testament kings and leaders to church age leaders, false teachers and prophets (1 Pet. 2:1-3) who are driven by "sensuality" to sin dictate otherwise. Those men and yes even some women, as reported in the Chronicle series, are people in positions of authority who are not immune to the temptations of power and lust in the world- even those who are born-again believers.
Therefore, now is the time for the church- particularly led by a denomination (the SBC) which has stood for biblical inerrancy and sufficiency for decades, to practice a bit of reformation and clean house beginning with biblically based discipline toward its own and loving care and counsel for the victims of sexual abuse, of which no excuse can made to explain away or tolerate.
SBC To Do List:
Clean House. Create an atmosphere in which abuse victims can feel comfortable enough to come forward with heartfelt accusations and testimony of having been abused by church leaders or members. Then, be willing to biblically and courageously practice church discipline, following the New Testament's guidelines which include leaders (Matt. 18:15-20; 1 Tim. 5:19-20)
Pray. As SBC President Greear said in the aftermath of the published report, "While it is not enough to 'just pray,' we (Christians) should be praying for those who have been abused. Praying for the 700 people in the Houston Chronicle article. Praying for the many, many other victims who have not yet come forward. Praying for the abused in our very churches."
Listen Up. Hear the testimonies, take seriously and investigate abuse claims immediately. Be willing to call for and listen to corroborating claims and prayerfully follow the evidence wherever it may lead.
Share. It is almost universally accepted as fact that one of the best methods in preventing or curtailing the prevalence of sexual abuse is for employers and organizations to share information about perpetrators and their history to networks and officials to red flag those who may be fleeing from one ministry in the midst of or after an investigation to fly to another to secure employment and again put innocent people at risk.
As Russell Moore, who heads the Ethics and Religious Liberty Commission of the SBC, spoke out forcefully in support of the story and commended the investigative reporting:
"The report is alarming and scandalous, the courage and grace of these survivors is contrasted with the horrific depravity of those who would use the name of Jesus to prey on them," he said in a statement. He also said churches should report all suspected instances of child sexual abuse to police, and the self-governance of churches in the Southern Baptist Convention "is no excuse for a lack of accountability."
Church Members to Do List:
Look Around. Be particularly sensitive to members or regular attenders of your church exhibiting irregular behaviors (i.e. withdrawal, depression) which may be indicators of a person who may be a victim of sexual abuse if not a perpetrator of it.
Admittedly this thing 'to do' may be difficult since such behaviors may be masked for years.
Even in my own church which is a 'Family-Integrated Church' ministry, meaning we do not have a children's nursery or ministry nor youth group by intention following the practice, pattern and model of both Israel and the historic church in the cause of discipleship, one might think we would never have to be concerned with the issue of sexual abuse.
Although the nature of our ministry does greatly minimize the chance of being impacted by sexual abuse, which has been greatly manifested in at least two generations of neo-traditional children's and youth church ministry, we must still be vigilant to look for signs of suffering and dysfunction among our people and be ready to act accordingly should the situation arise.
Care for One Another. Christians are called to be willing, able and open to love and share the burdens of a suffering disciple (Gal. 6:1-3), particularly those who may be caring the tremendous weight of pain, guilt and shame as victims of sexual abuse.
We begin to do that by moving towards those who are hurting in all humility, being personal and praying with and for the victim in the midst of cultivating relationship with them.
My hope and prayer in light of this SBC crisis, is similar to the goal of notable Christian counselor and author Ed Welch (Caring for One Another), who yearns to see church culture reform itself to the degree that the, "… counseling and mutual care of souls become natural features of the body's everyday life (Heb. 10:24-25)."