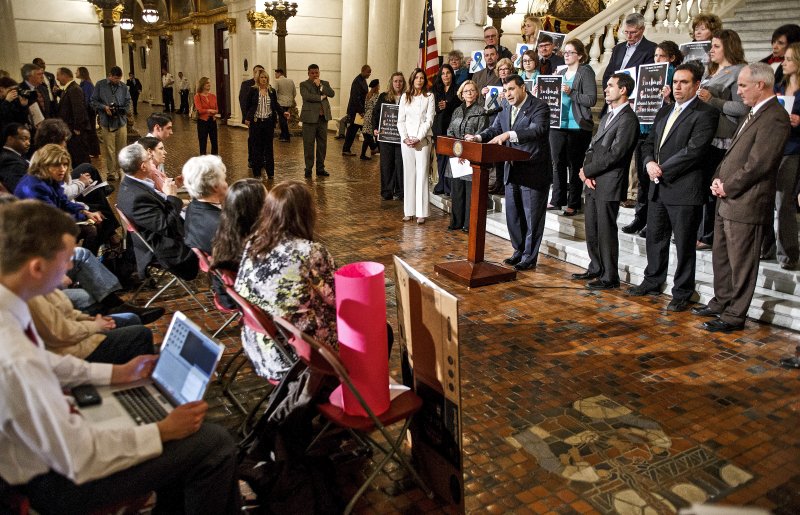 Bernie Diaz, August 28, 2018
I have long been a student of the American Civil War which divided and then largely began to unify this nation 150 years ago. I found that the 'war between the states'- the bloodiest and costliest in American history (over 650,000 fatalities), became by God's providence a necessary evil for this country and its legacy, in that it began to bring about the emancipation of African-American slaves and eventual equal and civil rights to them.
Similarly, my hope and prayer is that the current 'civil war' like state of Catholic affairs may actually lead to either a reformation or split of that religion from within, that would either drive its unbiblical and apostate hierarchy and doctrine back to the biblical faith in repentance, or disintegrate it from within as a means of freeing it's millions of adherents from a false gospel of works-based and idolatrous salvation.
Conspiracy and Cover-Up?
As if Pope Francis's recent and heretical statements on the nature of justification by faith and hell (a universalist bent) weren't enough to shake the faith of many if not most Catholics, the Pope has just been accused by a former top Vatican official of covering up sex abuse in the Catholic Church for years, coming in the wake of the revelation of yet another priestly sex scandal involving 300 priests over the past seven decades involving thousands of abuse victims in Pennsylvania, according to a Grand Jury report.
While the pope was in Ireland and meeting sex abuse victims, a former Vatican official, Italian Archbishop Carlo Maria Vigano, the former Vatican Ambassador to the U.S., claimed in a lengthy and detailed letter, that in 2013 he told Pope Francis of the allegations of sex abuse against former Cardinal Theodore McCarrick. But, he writes, the pontiff ignored that, and allowed McCarrick to continue to publicly serve the church for another five years.
The 88-year-old McCarrick since resigned from his role as cardinal earlier this summer amid a wave of these sex abuse allegations, including many involving seminarians.
The explosive letter from Archbishop Vigano called on Pope Francis to resign. He insists that Pope Benedict XVI imposed sanctions on McCarrick in 2009 or 2010 and ordered him to withdraw to prayer and penance, but that Francis decided to cover for him and even put him in a position of a trusted counselor.
The alleged papal cover-up of McCarrick continued for years, the letter states, until finally the cardinal was removed from public ministry in June. Francis "knew from at least June 23, 2013 that McCarrick was a serial predator," Vigano declares. He adds that even though the pope "knew that he was a corrupt man, he covered for him to the bitter end."
Vignano added, "Pope Francis must be the first to set a good example for cardinals and bishops who covered up McCarrick's abuses and resign along with all of them". The Pope in his response to the allegations and call to resign said, "I will not say a word about this… I believe the document speaks for itself." Much to his chagrin, it does.
"This is like an earthquake for the Church," another Monsignor told CBS News in an interview, acknowledging that this controversy and likely conspiracy of papal participation in a cover-up could conceivably split the Catholic church wide open. The last Pope to resign in disgrace from the church was Gregory XII in 1415.
This latest sexual scandal involving the Catholic church could not have come at a worse time for Rome, coming in the midst of the #MeToo movement which has claimed many an accused sexual abuser or harasser since 2016, including several high-profile evangelical pastors, such as Bill Hybels, the founding pastor of the influential Willow Creek mega-church, outside Chicago, Illinois.
Though both cases allege sexual misconduct and perhaps even sexual abuse, the significant difference between the two is the reach or breath of the respective impact of each. Willow Creek among others, involve local congregations of which there are more than 300,000 Protestant churches in America, the overwhelming amount led by faithful ministers free of corruption.
Whereas, Pope Francis by virtue of his office, has been designated as the 'vicar' or earthly substitute of Jesus Christ, as head of the entire Roman Catholic religion, according to their dogma.
According to the Catholic Catechism, he is the pastor of the entire Church carrying full, supreme, and universal power over the whole Church, a power which he can always exercise unhindered" (#882). Further reinforcing his power and authority, the catechism claims, "The Pope enjoys, by divine institution, supreme, full, immediate, and universal power in the care of souls" (#937).
What does a Catholic parishioner do when the caregiver of his or her own soul has likely participated in a cover-up of a massive and international sexual abuse scandal involving his own flock of clergy and leadership?
The Civil War is Breaking the Rock into Pieces  
Interestingly enough, this scandal and call for the Pope's resignation actually calls into question the entire foundation of which this religion and its leadership structure is built upon.
Just as Rome wasn't built in a day, neither was the Roman Catholic papacy. It was a long process that led to the setting up of this millennia-old office that combines spiritual and political claims.
As evangelical Pastor and Catholic historian Leonardo De Chirico observes from Rome, the pope claims to hold an office originally bestowed by Jesus upon the apostle Peter, and which has been passed down through a direct and unbroken line of succeeding apostles. In other words, "The pope claims to hold apostolic authority and continue the mission Jesus supposedly entrusted to Peter in Matthew 16:18: 'You are Peter, and on this rock I will build my church."
The Roman Catholic Church believes Jesus gave to Peter (and by implication, to all his successors) a foundational role in the building of his church. However, just a little Biblical and historical digging reveal there is no organic much less formal connection between what Jesus says of Peter in Matthew 16:18 and the function of the papacy.
De Chirico adds, "The pope claims a succession to Peter's ministry, but Jesus makes no reference to such a succession. Nor can we see in the text how this succession became attributed to the city of Rome, nor the imperial form that the papacy took.
In fact, just a cursory review of history tells us that the papacy is far more a product of the Roman Empire of the fourth century than of Peter's ministry. The Roman imperial pattern seemed to serve as more of the blueprint that shaped the papal institution than the Bible.
What the Word Needs Now
Many religious leaders are inclined to believe that, in our smaller, globalized world, a global Christian spokesperson like the Pope is or would be practically useful for Christianity as a whole. In interfaith circles, some (i.e. in the more liberal Muslim world) go as far as to say that the pope represents the whole of humanity when he advocates for the poor of the world or when he makes appeals for peace.
How frighteningly similar are those thoughts to the identity of a second "beast" or worldwide religions figure to come at the behest of Satan as described in the book of Revelation.
Does the world need another global leader like the Pope at the helm in order to thrive and survive? No. Especially if he's a carnal human being who claims religious and political roles that are not biblically justifed.
Born-again disciples of Jesus Christ should be in prayer with a heart to see either the pope and Roman Catholicism repent and reform from within of its sin and false doctrines, in returning to the once and for all biblical faith, as the result perhaps of this papal scandal and ethical civil war, or be dismantled from without, perhaps owing to the same result.
What the church and the world needs now as much as ever, is Jesus Christ, and the redemption he provides to a lost and dying humanity, by faith in him alone, by God's grace alone, according to scripture alone and for his glory alone.